'Making It' Forum Series: (Re)Building Creative Lives and Careers After the Fires
A pair of arts-led discussions that bridge county leaders with the arts community to increase support for artists recovering from local disasters and position the arts as partners in community recovery and resiliency.
Offered in conjunction with the Creative Community Thomas Fire Recovery Grant, a disaster-relief fund to help Ventura County artists invest in their creative careers. 
These grants are not just for those who lost their homes but for any artist or creative affected by the fire- whether personally, professionally, emotionally or financially. Applications accepted until August 1st.  

Click here to get info and apply for the grant.
ARTISTS' NEEDS FORUM
Date: Tuesday July 16, 2019
Time: 6:00 pm – 8:00 pm
Location: Museum of Ventura County, 100 E Main St, Ventura, CA 93001
What are your unmet needs in recovering from local disasters? – County leaders want to know. Artists will be supported in sharing their needs in the immediate aftermath of the fire and debris flow and their current, long term needs in recovering. This conversation will help local leaders understand the unique challenges artists face, help identify some potential funding priorities as as well as shape planning for future crises.
Recovery case managers and other recovery resources will be present, as well as information on how to apply for the Creative Community Thomas Fire Recovery Grant.

ARTS RESPONSE FORUM
Date: Thursday September 12, 2019
Time: 6:00 pm – 8:00 pm
Location: Carolyn Glasoe Bailey Foundation, 248 S Montgomery, Unit A, Ojai 93023
Celebrate the many creative and powerful ways that artists and art organizations provided recovery support in response to our local disasters. From providing healing activities and platforms of expression to becoming direct aid providers, the arts community has been a vital contributor to the region's well being. 
Come share your efforts and experience and help us envision how else the arts can help with ongoing efforts, as well as with preparing for future crises and building a stronger Ventura County.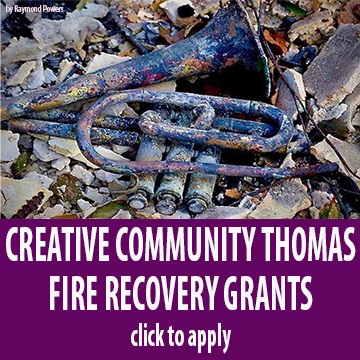 Presented by CreativityWorks, the Long Term Disaster Recovery Group* and the Carolyn Glasoe Bailey Foundation with the support of the Ventura County Arts Council and The Ventura County Community Foundation.
*The Long Term Recovery Group is a collaboration of more than 50 organizations working to address the unmet needs of residents impacted by the 2017 and 2018 wildfires.